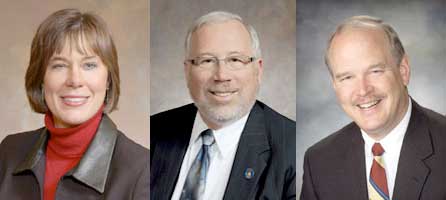 Above: Sheila Harsdorf, Luther Olsen, and Dale Schultz, from left to right.
By Jennifer Amdur Spitz
Published: March 7, 2011
Three of the 19 Wisconsin Republican State Senators annually applied for and received direct farm subsidies from the federal government.  These are the same people who want government spending limited, apparently except when it comes to their own welfare checks.
Sheila Harsdorf of the 10th District, is 50% owner in Trim-bel Valley Farms in River Falls WI, received payments totaling $194,763 from 1995 through 2009.
Luther Olsen of the 14th District, 20% owner in Riverview Farm, received payments totaling $84,232 from 1999 through 2009
Dale Schultz of the 17th District received payments totaling $61,171 from 2000 through 2009 for a farm in Richland Center, WI
The three Republican Senators applied for, and received taxpayer funded subsidies in the categories below:
Direct payments are paid at a set rate every year regardless of conditions.
Counter-cyclical payments are triggered when market prices fall below certain thresholds.
A new revenue assurance program provides for overall profitability for a given crop.
Marketing loans offer very favorable terms whereby farmers can realize tremendous gains through loan deficiency payments (LDPs) and commodity certificates.
Disaster payments recoup large losses due to natural phenomena. And the government subsidizes crop insurance, paying 100% of the premium, to further insulate farmers from risk. (Meanwhile the same legislators oppose the government subsidized health insurance for their neediest constituents.)
Conservation Subsidies – this is a pork barrel payment to 'retired' farmers who own land and don't grow anything at all. Taxpayers handed out about $6,000 each year since 2000 to Sen. Schultz for his idle acres.
It is important to note, not all Wisconsin farmers look to the government for handouts. According to the USDA, 40% of  eligible Wisconsin farmers did not collect farm subsidy checks. For more detailed definitions of the subsidies, visit http://www.downsizinggovernment.org/agriculture/subsidies.
While our nation struggles to right itself from the economic decline, we need to take a good hard look at our representatives in state and federal government, and hold them accountable for the government spending policies that they support. It is no secret that the farm subsidy system in this country is hideously broken, that the food system is endangering our health and that the agriculture lobby is formidable. While corporations are citizens in the eyes of the Supreme Court, they do not have the right to vote (yet).  Instead of focusing on gutting worker's rights and cutting teacher pay, how about restructuring the farm bill. It will free up billions for health care and education, and lead to a food system where wholesome foods are cost competitive with the processed crap we subsidize.
To look up representatives in your area, check out this database http://farm.ewg.org/, the last item on the menu on the left side allows you to search by name.
For further information and definitions about farm subsidies, visit http://farm.ewg.org/subsidyprimer.php
Update: An earlier version of this article incorrectly stated that Senator Michael Ellis was among the Wisconsin State Senators who received farm subsidies.