"How Do You Feel?" Millennial Voter Campaign – Donation Page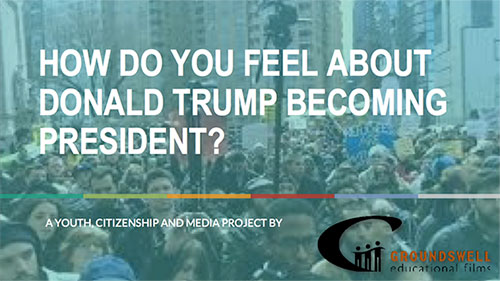 Download slide deck (PDF)
Building a Groundswell
Thank you for joining our campaign to register and engage the 83% of eligible voters ages 18-24 who did not vote in the last election. "HOW DO YOU FEEL ABOUT TRUMP BECOMING THE NEXT PRESIDENT?" social media campaign amplifies the voices of college-age youth, engages them in peer-led discussion about the 2016 election, and helps them to register and vote. Please help spread the word on social media.
[gravityform id="2″ title="false" description="true" ajax="true"]

Sponsorship Levels:
Sponsor – $15,000
Co-Sponsor – $10,000
Captain – $5,000
Supporter – $1,000
Campus Sponsor – $500
Contributor – $100
Young Activist – $25
Snail Mail Donations
Payable to: Groundswell Educational Films, NFP
Mail to: Jennifer Amdur Spitz
Groundswell Educational Films
135 S. LaSalle, Ste 2000
Chicago, IL 60603
All donations are 100% tax deductible.