By Jeff Spitz
Published: August 29, 2018
The Doc Talk Show is proud to present a sneak preview in partnership with the 5th annual (in)Justice For All Film Festival.
Born in a south side church on 95th street (Trinity United), this innovative film festival embeds into audiences at institutions and untraditional venues all over the Chicago metro area including Lake County. What started with one small prison ministry and a single film now extends in every direction, embracing a wide range of films and audiences for social justice.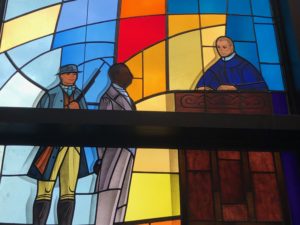 Meet filmmakers, festival organizers and brilliant activists.
Come for dinner, drinks, docs and, as always, great discussions. Admission is free.
Reservation required. The Doc Talk Show happens on the last Thursday of the month at Uncommon Ground, 3800 N. Clark.
Reserve your seat for Thursday, September 27th, 6:30pm – 9:30pm here: https://tinyurl.com/y74fc9kg
See www.groundswellfilms.org/news  for highlights videos of previous shows and updates.