By Jeff Spitz
Published: April 6, 2011
Dear Friends of Groundswell,
As Japan struggles to contain a radioactive catastrophe, Groundswell's Return of Navajo Boy project reminds us of the legacy of radioactive contamination from the nuclear industry at home. Amid the tragic legacy, there is finally some good news.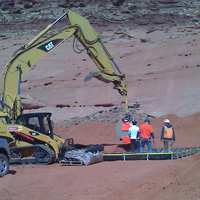 Above: On March 30, 2011, remediation work finally begins at the abandoned Skyline Mine in Elsie's Backyard!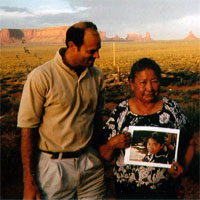 Above: Jeff and Elsie meet for the very first time in May, 1997. Elsie holds a photo of herself as a child that Jeff brought back to Monument Valley.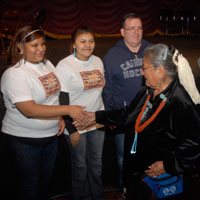 Above: Elsie greets attendees after a screening of "The Return of Navajo Boy" at University of Idaho's Sapatq'ayn Cinema Film Festival, March 26, 2011.
This week, after four decades of neglect, the US EPA quietly began a multi-million dollar clean up of the radioactive waste in Elsie Begay's backyard. Elsie is the Navajo matriarch in The Return of Navajo Boy film who lost two children to radiation related cancers.
The job of removing many tons of highly radioactive waste from one Navajo family's backyard will take at least 4 months and cost approximately $5 million they say. The waste cannot be "cleaned up." EPA will put it into a very large container, cover it and surround it with a fence. Groundswell along with Elsie and other Navajo family members have worked tirelessly over the last eleven years for this outcome.
The US Dept of Energy under the present administration is proud of this environmental justice story. They have invited Groundswell to come to Washington DC to present the film, epilogue and whole Navajo Boy story of media, advocacy and social change at the State of Environmental Justice Conference on April 28th and 29th. They are also sponsoring travel for the Navajo speakers.
While we celebrate the victory for Elsie's family in Monument Valley, UT, there are more than 1,000 abandoned uranium mines in the Navajo Nation. Many Navajo families are dealing with radioactive contamination and grief that simply cannot be contained.
Our method–telling the story from a Navajo point of view, amplifying voices through media and moving audiences to action—now moves mountains. Our success would not be possible without a network of supporters who book Groundswell programs to raise awareness and help fund our outreach efforts.
Thank you, Bill Kennedy, for inspiring an uncertain journey to give your dad's movie back to the Navajos in 1997 and for bringing all of us together again for an unforgettable premier at the Sundance Film Festival. Thank you, Native American Public Telecommunications for broadcasting the film nationally on PBS. Thank you, Bradshaw-Knight Foundation, for supporting the production of an Epilogue in 2008 as well as the Groundswell advocacy campaign that brought the film, Elsie, and Navajo tribal officials into the halls of congress. Thank you, Ira Ziering, the Ziering Family Foundation, and several individual donors for supporting our ongoing outreach and webisodes. Thank you, Dan Amdur, for providing Groundswell with a great place to work.
Thanks to you all for helping us build a Groundswell for environmental justice.
— Jeff Spitz & Jennifer Amdur Spitz
Groundswell Co-Founders