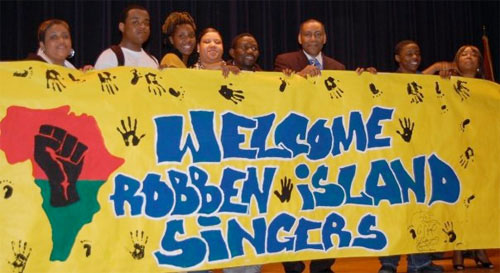 By Groundswell Films
Published: September 10, 2009
Chicago-area teachers and administrators love the Robben Island Singers school program.
Phillips High School principal Euel Bunton had this to say after Robben Island Singer Grant Shezi visited his school:
"You promised that this would be a memorable experience, and it truly was. Grant Shezi's personal testimony was compelling and credible to our students. He struck a cord with students when he identified self control as the character trait that enabled him to overcome the desire for revenge and violence. Many, many more of our youth desperately need to hear this man and his message. I wholeheartedly endorse efforts to bring Robben Island Singers to the Chicago Public Schools on an expanded basis."
CPS Director of Policy and Program Development Diane Fager says:
"Looking at the lessons learned in South Africa, the Robben Island Singers offer students a third dimension to reflect, and a new light to examine their own experience. Students are invited to express their revelations through the arts, and the Robben Island Singers help students learn to facilitate a new dialog in their own communities. Sure their curriculum lines up with state learning standards in many subject areas, but the Robben Island Singers are much more than that. They teach students to think critically about what they have learned; to communicate their ideas to one another across cultures using visual, performing or media arts; and that they have the power to organize and mobilize their communities towards a better future."
Check out what students have to say about The Robben Island Singers school program.